Political Action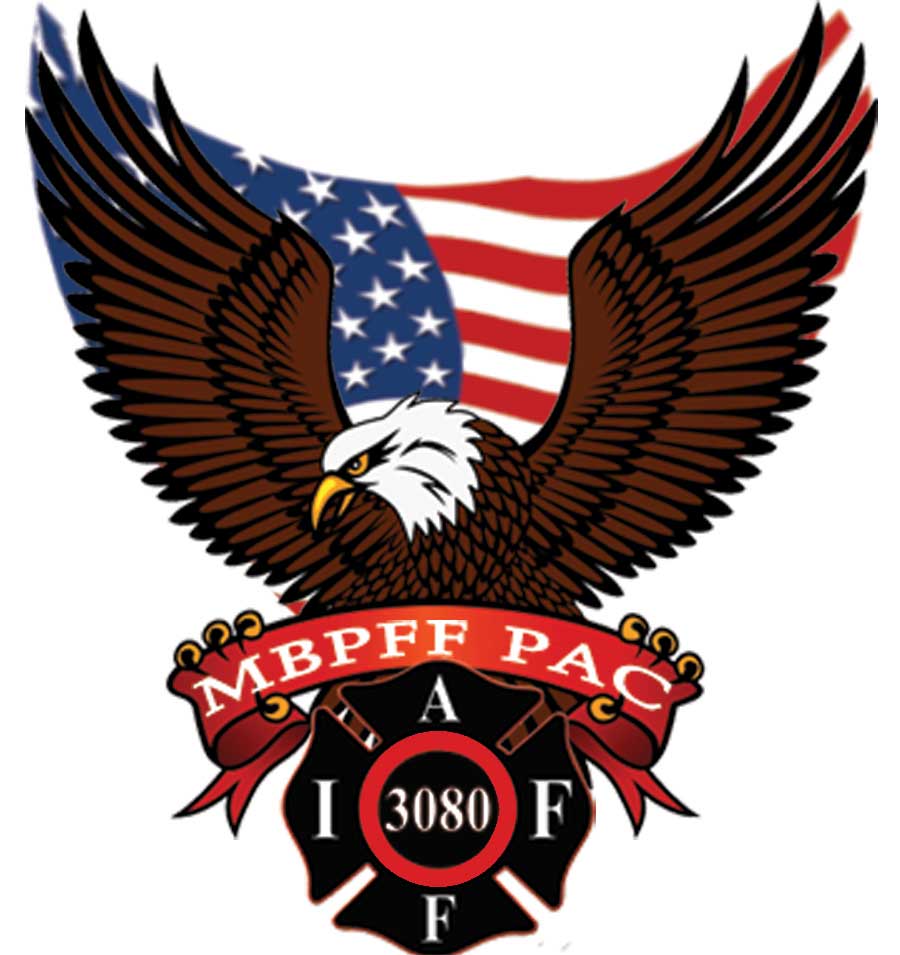 MBPFF PAC is 3080's state and local political action committee (PAC) and an integral part of 3080's efforts to promote the legislative and political interests of all professional fire fighters and paramedics at the local level. MBPFF PAC mission is to educate Members of our local Commissions and state officials about issues important to fire fighters and emergency medical personnel and to help elect candidates to office who support those issues.
To contact our PAC please e-mail: unionoffice@3080fire.com
Cities Cut Deal, Then Change Minds
NEW OBSTACLE FOR LOCAL PENSION CHANGES: CITIES
By BRANDON LARRABEE
THE NEWS SERVICE OF FLORIDA
©2014 The News Service of Florida. All rights reserved. Posting or forwarding this material without permission is prohibited. You can view our Terms of Use on our website.
THE CAPITAL, TALLAHASSEE, January 21, 2015..........Emboldened by the re-election of Gov. Rick Scott, city governments are now balking at an overhaul of police and firefighter pensions that they supported during last year's legislative session.
The new stance by the Florida League of Cities and its members represents a setback for the retirement legislation, though the Senate Governmental Oversight and Accountability Committee unanimously approved the measure (SB 172) despite the cities' opposition.
The proposal had seemed more likely to pass both chambers after House Speaker Steve Crisafulli, R-Merritt Island, said his chamber would no longer require the bill to be combined with far more controversial changes to the retirement system for state and county workers.
Crisafulli's statement "takes an obstacle away, so I guess that makes it a little easier," said Sen. Jeremy Ring, the Margate Democrat who chairs the Senate committee, after the meeting. "But it's a little harder because we had a compromise bill last year that everyone agreed upon, and we take the same bill back this year, and now the cities are in opposition to it."
During the meeting, Ring did little to hide his anger about the cities' change in position, grilling city officials who spoke and delivering scathing remarks to the committee before the bill passed.
"When the cities came up today, it made me more than ever before of the belief that the cities of Florida are asking the Florida Legislature for a bailout," he said. "That is what they are doing. Absolutely, they want us to bail them out. And you know what? We're actually doing it. We're really doing it."
At the center of the dispute is a complicated formula for dividing insurance premium tax money used to help fund the local pensions, and a 2012 reinterpretation of the state law governing those dollars by the Department of Management Services. The "Naples letter," as it's called, gives cities a much freer hand in spending the funds. But unions resisted the new interpretation, and there are fears the letter won't stand up in court if it's challenged.
The plan approved Wednesday, sponsored by Ring and Sen. Rob Bradley, R-Fleming Island, would essentially repeal restrictions in state law on how the premium taxes are spent, so long as local governments and unions can come to agreement. If there is no agreement, the taxes would be sifted through a formula detailing how much should be spent on existing benefits and how much should be given to workers in a separate retirement account.
The cities and union representatives agreed to that compromise last year, with a competitive election looming between Scott, whose administration had worked on the Naples letter, and former Gov. Charlie Crist. But Ring said Scott's victory in November led the cities to change their position.
Kraig Conn, a lobbyist for the Florida League of Cities, conceded after the Senate committee's meeting that Scott's win was "part of the calculus" for the organization.
"If you don't take a factor like that into the equation if you're a lobbyist and you've worked with the legislative process for any period of time, then you're not doing your job right," he said. "So, that was a factor. It wasn't the sole determining factor."
But he also told senators that many cities opposed the plan even last year, and that many who have looked at the legislation since also see it as interfering with their ability to negotiate with unions.
"I'll be the first to tell you that I got way ahead of my membership," Conn said.
Roger Reinke, an assistant city manager in Naples, said his city was among those who didn't approve of the bill in 2014.
"We do not view this bill as pension reform," he told the committee. "The proposed legislation does not meet the needs of our local government and certainly does not meet the needs of our taxpayers."
For their part, unions are standing behind the bill.
"I think this is still a good compromise," said Matt Puckett, executive director of the Florida Police Benevolent Association. "There are things in this bill I don't like. There are things in this bill that were forced on us at the very end that we weren't happy with."
While admitting that Conn has a difficult job because of the number of members, Ring made it clear he thought cities should bear the blame if this year's pension bill doesn't pass, and he acknowledged the unions for continuing to support the legislation.
"The truth of the matter is that, if this bill fails, and the Naples interpretation is overturned, you have absolutely no reason whatsoever to come back to this Legislature and ask for change, or if the cities ask for change to agree to that, as far as I'm concerned," he said.
-END-
1/21/15
©2014 The News Service of Florida. All rights reserved. Posting or forwarding this material without permission is prohibited. You can view the
Terms of Use
on our website.
Independent and Indispensable
http://www.newsserviceflorida.com
Page Last Updated: Mar 07, 2015 (04:47:00)